Anais' internship at Eevia Health
As a young intern at Eevia Health I will share with you today my feelings about what my last 3 months were on their side.
At first, when I accepted this internship, I did not know anything about Lapland or the treasures it has. I only knew it was a vast territory in the north of Europe, a dream landscape in the snow. So as a Frenchman I had never heard of bilberries or chaga, and the only pine bark I knew came from the Mediterranean coast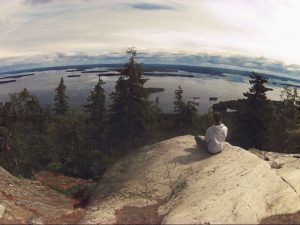 For me there was no difference between blueberries and bilberries, and I had not even imagined that there could be so many different berries, which are on top of that, completely different on the benefits that our body can enjoy .
During my internship, I was able to learn how these wild products could be organic thanks to the Lappish forests, or how these products are naturally good for your body, I was able to discover thanks to different scientific studies how their components act for our well-being.
I was delighted to work for a company that takes to heart the preservation of the environment and the well-being of its staff. This reflects for me the feeling I have of Finland: a wonderful country, environmentally friendly and far ahead from being socially problematic. I hope to have the opportunity to come back someday.
It has been an honor for me to work for a company that is so committed to sustainable development, and that offers products naturally healthy for the body. I loved all my trip through Finland thanks to Eevia Health. I recommend a trip to Finland if you want to discover the origin of Eevia Health's pure raw materials. Enjoy the view!
Anaïs