Top quality organic Bilberry Juice Powder – special offer!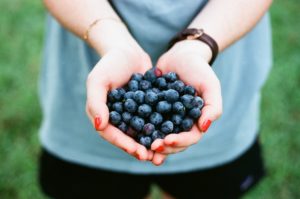 As Eevia Health has increased its production capacity, another product we are now producing more is Bilberry Juice Powder. The product is made from high quality wild bilberry (Vaccinium myrtillus) juice concentrate and maltodextrin with a 50:50 ratio. We can also provide the product with other carriers and other ratios from request. Eevia Health is currently offering Bilberry Juice Powder in 20kg and 40kg fiber drums. Our bilberry juice powder is organic certified. The raw material is hand-picked from Finnish Lapland.
The powder is 100% water soluble and great if you are looking for tasty and colorful ingredients to your projects. The dark purple – colored powder has a strong characteristic bilberry flavor. The mild scent is also characteristic for bilberry.
Bilberry juice powder is especially suitable for food and beverage applications. We would recommend it to for example beverages, superfood blends, smoothies, bars and chocolates.  Bilberry is similar to blueberry, but it contains more anthocyanins, vitamins and it is also juicier than blueberry.
We are looking for customers to make sales contracts for both short- and long-term delivery schedules. If you would like to know more about the quantity and pricing of our Bilberry Juice Powder, please contact us at high5@eeviahealth.com . We are also offering free samples.
Our Bilberry NFC Juice and Juice Concentrate (65 Brix) are also readily available, learn more here