LYL love your life ®- Pine Bark fighting aging of skin!
Did you know that Eevia Ingredients have already been used in face creams, face serums, ampoules and eye creams? Arctic organics have strong inflammatory and antioxidative properties and are ideal for your natural cosmetic series! Learn more here.
---
pharm&med LTD/LYL love your life ® (Latvia)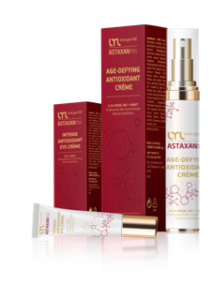 The Latvian company pharm&med LTD (LYL love your life ®) is using Eevia's liquid pine bark extract (Fenoprolic 25L) in a powerful natural antioxidant face and eye cream. The effects are a firmer skin, overall improvement of skin condition as well as reduced wrinkles in top and middle layer of the skin. Read more here.
Munise Lamberte, Development and Production Executive
"I met Eevia at Vitafoods in 2016 and was impressed by high quality and high concentration ingredients that Eevia offers. The support we received along our product development process helped us to receive the first product samples in very short period of time. We have always received friendly, positive, and helpful attitude from Eevia's team. We are very excited about our new product line LYL love your life ASTAXANthin containing Fenoprolic 25L (liquid pine bark extract) that was launched in autumn 2016. We are very impressed with Eevia's natural product range and are currently exploring also their other ingredients for our range."
Learn more about pine bark extract here.