Organic cosmetic market is skyrocketing – Towards 2020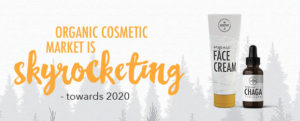 Did you know that the global organic personal care market will have a market size of 15.98 bn. USD by 2020? The demand is especially fueled by organic, herbal and natural skin care products. North America accounts for around 35% of the global market and the market will be growing continuously in the years to come.
North America: Organic Personal Care Market 2012-2020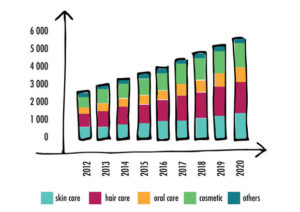 As the market is growing, there are both opportunities for existing players by starting organic product lines as well as new players focusing completely on natural and organic cosmetics. Have you already considered using ingredients from the Arctic? Our harsh climate lets the raw material grow stronger and more potent. Around Europe, we have noticed a growing interest especially in chaga and pine bark as cosmetic ingredients. At the same time, our customers have noticed a Nordic trend in the cosmetic industry. Are you ready to go Arctic and natural?
Source: Grand View Research: "Organic Personal Care Market Analysis By Product (Skin Care, Hair Care, Oral Care, Cosmetics) And Segment Forecasts To 2020", published August 2015
Your New Arctic Ingredients
Chaga
Chaga has traditionally been used as tea but has recently also been becoming popular as a cosmetic ingredient, e.g. in anti-age serums.
A customer who recently tested chaga in a face serum application reported the following test results: smooth skin, radiant look, less wrinkles and red dots, cleaner face
Pine bark
Pine bark has often been used in joint health supplements but the interest for its use in cosmetic application has been boosted due to its strong anti-inflammatory properties
Some of our customers have already decided to launch new products with pine bark for anti-age and sensitive skin purposes
Contact us at high5@eevia.fi to learn more!