A growing number of people suffer from poor blood pressure, poor blood lipo-profile and inflammation issues. Eevia Health Oy provides a pine bark extract, Fenoprolic®, with high concentration of oligomeric proanthocyanidins (OPC). The product addresses key indications in cardiac system functions and joint tissue homeostasis. The most interesting effects are improved blood pressure and reduced hypertension. In addition, the OPC extracts from pine bark reduces inflammation of cardiac tissue and circulatory systems. This results into a healthier heart.
The OPC effects on joint health include reducing the inflammation and oxidative stress in the joint tissues. It also decreases the pain and sense of discomfort in joints.  Other indications of Eevia Health's pine bark extract include cognitive health, improved metabolic health and eye health.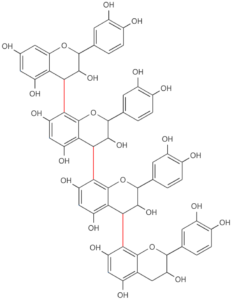 The main active compound, the oligomeric proanthocyanidins (OPC), are 2-8 unit long oligopolymer compounds made from catechin and/or epicathecin units.  OPC's can mostly be found in the plants skin and bark. OPCs are most commonly known as antioxidants, but they are also reported to have antibacterial and anti-inflammatory actions (see Oligomeric Proanthocyanidin Complexes: History, Structure, and Phytopharmaceutical Applications by Anne Marie Fine, http://www.altmedrev.com/publications/5/2/144.pdf). OPCs are the main reason for pine bark extracts health benefits. Other constituents in the product are other phenolic and polyphenolic compounds like soluble lignin, monomeric catechin, protocatechuic acid, stilbenes and flavanols. The non-phenolic fraction is mostly composed of polysaccharides such as cellulose, hemicellulose and other complex carbohydrates
Eevia Health makes organic pine bark extract from arctic pine trees (Pinus sylvestris) exclusively from Feno-Scandinavia and the arctic regions of Lapland. Because of the arctic temperature, the pine trees contain naturally more bioactives (secondary metabolites) than similar pinus species. The raw material comes from the young, still growing top parts of the pine trees. Most of it is collected from the Finnish Lapland, where the pine trees are under-utilized. 25% of the whole world's organic certified forests are located in Finland. The final product is standardized according to OPC content and Eevia Health can offer authentic, sustainable and low carbon foot print products at the best price/OPC ration in the industry.
Contact Eevia Health (www.eeviahealth.com) if you wish to offer products based on arctic pine bark extracts to your customers!